While giving birth is among life's greatest joys, many women find that the experience alters the look and feel of their lower bodies. Pregnancy, as well as the natural aging process, can reduce tightness and elasticity in the vagina, leading to poor bladder control, dryness, and decreased sexual pleasure, among other concerns.
ThermiVa is an exciting non-invasive option for improving vaginal form and function. Without discomfort or downtime, ThermiVa can rejuvenate your labia and vagina, restoring quality of life. Dr. Shafa is thrilled to offer this advanced, cutting-edge technology as part of his commitment to remaining ahead of the curve when it comes to groundbreaking innovations in cosmetic science.
What is ThermiVa?
Both pregnancy and aging can impact the function of the vagina. They can also affect its appearance, causing self-consciousness in the bedroom. Luckily, there is an excellent solution now available that does not require invasive surgery, anesthesia, scarring, or lengthy downtimes.
ThermiVa is a new non-surgical technology that harnesses the power of radiofrequency to gently warm the vaginal tissue, promoting collagen regeneration. Over time, this helps to tighten and renew the labia and vagina, improving sexual response and correcting a host of problems such as dryness and bladder leakage. The radiofrequency energy is not painful and does not cause any skin damage.

What concerns can ThermiVa address?
Sagging vaginal lips
Vaginal dryness
Urinary incontinence
Loosened vaginal muscles
Loss of sexual pleasure
Reduced vaginal sensitivity
Poor aesthetic appearance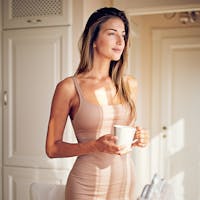 What are the benefits?
Painless with no downtime
No incisions, anesthesia, or scarring
Helps rejuvenate the labia majora and vagina
Short treatment time of 15-30 minutes
High rate of patient satisfaction
Improves one's ability to achieve orgasm
Improves lower body appearance
Reduces bladder leakage
Combats vaginal dryness, chafing, and itching
Can be performed six weeks after giving birth
Treatment can be repeated at regular intervals
Enhances self-image and quality of life
Physical activities become more enjoyable
Wardrobe options are expanded

Am I a good candidate?
Women who have been pregnant in the past, or those who are approaching menopause will find ThermiVa to be an effective skin-tightening tool for firming the labia and vagina. If bladder leakage, dryness, and a lack of sexual pleasure have been concerning you for some time, ThermiVa might be an excellent solution. Not only can the process improve the function of your vaginal region, but it can also modify your appearance so you feel more comfortable in the nude.
As with any cosmetic procedure, it's important that you undergo a private consultation to determine if this approach is right for your goals. Patients pursuing ThermiVa treatment should be healthy non-smokers who are realistic in their expectations for their results.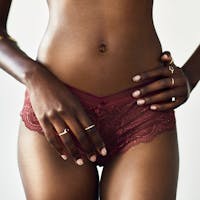 What can I expect after my treatment?
ThermiVa does not require any significant recovery period. In fact, most clients simply return to work or school after their session. It is even safe to resume sexual activity right away. Results may be evident immediately, but with continued treatments, your symptoms will be comprehensively addressed and reduced. Appointments are typically spaced about a month apart.

Why choose Dr. Shafa?
Dr. Shafa is a Beverly Hills-born and raised plastic surgeon who has dedicated his practice to the pursuit of aesthetic excellence and outstanding client care. After getting his Master's Degree in Cancer Biology, Dr. Shafa completed his medical training at the Wayne State University School of Medicine. He then pursued a demanding program in General Surgery Henry Ford Hospital in Detroit as well as additional training in Plastic Surgery at the University of Illinois – Chicago.
Dr. Shafa is passionate about giving back to the community and was invited to participate in the Clinton Global Initiative, fighting malaria endemic in Haiti. He has also traveled to Honduras and Belize to help improve access to healthcare for underserved populations.