Countless crunches and hours of sweating in the gym may not be enough to smooth and tone loose skin and tighten weak muscles in the abdomen after weight loss or pregnancy. Many take the step to undergo a tummy tuck from one of Beverly Hills best abdominoplasty surgeons- Dr. Shafa to create a toned, taut, lean midsection.
What is a tummy tuck?
A tummy tuck, or abdominoplasty, is a surgical procedure to remove excess skin, fat, and tissue, tighten the underlying muscles, and restore a taut, sculpted abdomen.
Tummy tucks are extremely popular for women who have had the abdominals damaged by pregnancy or have lost a dramatic quantity of weight. A tummy tuck can resolve stretch marks, excess skin, tissue, and fat, and weakened abdominal muscles.

Am I a good candidate for a tummy tuck?
If you have recently had a child or experienced massive weight loss and are struggling with the appearance of loose skin that is not responding to exercise, a tummy tuck may be the right solution. If you are planning to get pregnant again or have not yet achieved your weight-loss goals, you should wait to undergo the procedure. Dr. Shafa will take all the time you need to discuss your options and alternatives as well as the timing of your abdominoplasty in Beverly Hills.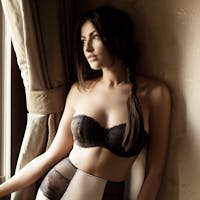 What can I expect from my abdominoplasty?
Before your tummy tuck procedure, you will have a private consultation with Dr. Shafa at our discreet Beverly Hills office to determine if a tummy tuck will achieve your desired results. During your consultation, Dr. Shafa will discuss your medical history, including any previous surgeries and medications, as well as your expectations and what you hope to achieve to determine if a tummy tuck is right for you.
During your tummy tuck procedure, Dr. Shafa and his expert team will administer general anesthesia to ensure your utmost comfort. Your tummy tuck surgery may take from one to five hours, depending on the extent of the corrections needed. In some cases, you may be required to stay overnight after the surgery.
During your tummy tuck, Dr. Shafa will expertly place incisions to remove excess skin and tighten the muscles of the abdominal wall. Fatty deposits may be removed with liposuction. Dr. Shafa will then suture the incisions, apply bandages and small, thin tubes for drainage if needed. You will be fitted with an elastic bandage or compression garment to help your midsection heal.
How to prepare
for a tummy tuck?
Before your tummy tuck procedure, take steps to prepare your home for your recovery. Have ice packs in the freezer, loose and easy clothing available, and a hand-held shower head and bathroom chair to make your recovery faster and more comfortable. Arrange for a trusted friend or family member to stay with you and assist you for the first few days. You must quit smoking at least two weeks before your tummy tuck surgery, and fill all your prescriptions before the date of your surgery, as well as arrange for transportation to and from the surgical center.
Recovery from my
tummy tuck procedure
After your tummy tuck, Dr. Shafa will provide detailed aftercare instructions for bandage replacement and tips to help you heal quickly.
You will need to plan on taking a couple of weeks off from work or other activities. You must avoid any strenuous activity or exercise for at least six weeks.

Why choose Dr. Shafa for my abdominoplasty in Beverly Hills?
Dr. Shafa understands his patients and aims to be more than a tummy tuck provider, but also their partner in aesthetic wellness by delivering long-lasting, natural-looking results. Dr. Shafa and his medical support team provide a warm, welcoming environment where you can feel at ease to discuss your expectations, medical history, and any fears or concerns. It is Dr. Shafa's goal to deliver preventative, long-term results through care plans using both surgical and non-surgical options curated to match your unique body issues.