Countless crunches and hours of sweating in the gym may not be enough to smooth and tone loose skin and tighten weak muscles in the abdomen after weight loss or pregnancy. Many take the step to undergo a tummy tuck in Beverly Hills to create a toned, taut, lean midsection.
What is a Tummy Tuck?
An abdominoplasty, or tummy tuck, is a surgical procedure to remove excess skin, fat, and tissue, tighten the underlying muscles, and restore a taut, sculpted abdomen.
Tummy tucks are extremely popular for women who have had the abdominals damaged by pregnancy or have lost a dramatic quantity of weight. A tummy tuck can resolve stretch marks, excess skin, tissue, and fat, and weakened abdominal muscles.

Am I a Good Candidate for a Tummy Tuck?
If you have recently had a child or experienced massive weight loss and are struggling with the appearance of loose skin that is not responding to exercise, a tummy tuck may be the right solution. If you are planning to get pregnant again or have not yet achieved your weight-loss goals, you should wait to undergo the procedure. Dr. Shafa will take all the time you need to discuss your options and alternatives as well as the timing of your abdominoplasty in Beverly Hills.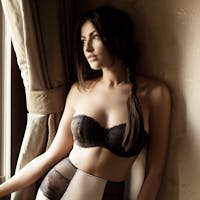 What Can I Expect from my Abdominoplasty?
Before your tummy tuck procedure, you will have a private consultation with Dr. Shafa at our discreet Beverly Hills office to determine if a tummy tuck will achieve your desired results. During your consultation, Dr. Shafa will discuss your medical history, including any previous surgeries and medications, as well as your expectations and what you hope to achieve to determine if a tummy tuck is right for you.
During your tummy tuck procedure, Dr. Shafa and his expert team will administer general anesthesia to ensure your utmost comfort. Your tummy tuck surgery may take from one to five hours, depending on the extent of the corrections needed. In some cases, you may be required to stay overnight after the surgery.
During your tummy tuck, Dr. Shafa will expertly place incisions to remove excess skin and tighten the muscles of the abdominal wall. Fatty deposits may be removed with liposuction. Dr. Shafa will then suture the incisions, apply bandages and small, thin tubes for drainage if needed. You will be fitted with an elastic bandage or compression garment to help your midsection heal.

How to Prepare
for a Tummy Tuck?
Before your tummy tuck procedure, take steps to prepare your home for your recovery. Have ice packs in the freezer, loose and easy clothing available, and a hand-held shower head and bathroom chair to make your recovery faster and more comfortable. Arrange for a trusted friend or family member to stay with you and assist you for the first few days. You must quit smoking at least two weeks before your tummy tuck surgery, and fill all your prescriptions before the date of your surgery, as well as arrange for transportation to and from the surgical center.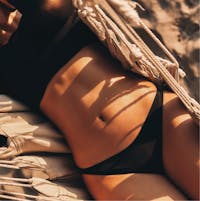 Tummy Tuck Recovery Timeline
The same day – You will be fitted with a compression garment to help minimize your swelling and keep your new shape stationary. Drains may also be placed to help rid the body of excess blood and fluids after surgery. You will need a friend or family member to drive you home and to stay and assist you for the first 24 hours. Many clients find it useful to arrange for assistance with childcare, household chores and other tasks for up to a week or so. The doctor will provide you with detailed aftercare instructions as well as prescriptions for pain medications. Make sure you follow directions carefully.
A few days after surgery – You will be unable to bend, lift or stand for long periods, so you'll need help with everyday activities temporarily. Pain and tenderness at the treatment site are normal, but your pain medications will help make these symptoms more manageable. You will also need to take antibiotics to prevent infection. You should eat lightly in order to protect your stomach muscles as they heal. Increasing your fiber intake can help to mitigate postoperative constipation. Take care to avoid excessive exposure to the sun, drinking alcohol and smoking for at least 90 days post-op.
A few weeks after surgery – At this point, you will already notice a positive change in your abdominal contours. You will attend a follow up visit so your surgeon can check on your progress. Many clients return to work now, provided their job is not physically strenuous in any way. You will still need to avoid heavy lifting, bending and continuous standing for at least a few more weeks.
A few months after surgery – While some minor swelling, numbness and bruising may still be present a few months later, your incision will be fully healed. Over time your scar will fade and flatten. At this point in your recovery, you can resume most normal activities, including weight lifting. Your surgeon will need to approve your return to strenuous exercise, of course.
A year after surgery – Your tummy tuck scars will be totally healed and you will be enjoying your new, sculpted abdomen. You will need to maintain a healthy lifestyle with a balanced diet and regular exercise. If you do this, your results will be sustainable over the long term.
How much does abdominoplasty cost?
The average cost of a tummy tuck ranges from around $6000 upwards to around $10,000. Total pricing depends on the techniques used and on whether additional treatments such as liposuction or a thigh lift are performed in tandem with abdominoplasty.
Components of the total price will include surgeon's fees, facility fees, anesthesia fees, postoperative garment fees, and others. Dr. Shafa will sit down with you during your consultation and create a personalized quote for services after your physical evaluation and a thorough review of your medical history.
Will insurance cover my abdominoplasty?
Insurance carriers typically only cover medically necessary procedures. Since tummy tuck surgery is primarily performed for cosmetic reasons, it doesn't usually qualify for reimbursement. However, if excess abdominal skin is causing irritation, rashes, or infection, insurance may pay for a part of the surgery. You will need to check with your individual carrier.
Is a tummy tuck painful?
Abdominoplasty is performed under general anesthesia, so you will not be awake during the most painful portions of the treatment. Afterward, your discomfort will be managed through pain medications provided by Dr. Shafa. Most clients find that they heal quickly, thanks to Dr. Shafa's conservative, precision-oriented techniques.

Why Choose Dr. Shafa for My Abdominoplasty in Beverly Hills?
Dr. Shafa understands his patients and aims to be more than a tummy tuck provider, but also their partner in aesthetic wellness by delivering long-lasting, natural-looking results. Dr. Shafa and his medical support team provide a warm, welcoming environment where you can feel at ease to discuss your expectations, medical history, and any fears or concerns. It is Dr. Shafa's goal to deliver preventative, long-term results through care plans using both surgical and non-surgical options curated to match your unique body issues.