After breast cancer surgery, the final step is to restore a natural-looking breast mound and nipple structure with breast reconstruction surgery. Dr. Brian Shafa is an experienced, talented surgeon who would be honored to help you with this vital aspect of full breast cancer recovery.
What is Breast Reconstruction?
Breast reconstruction in Beverly Hills and Santa Monica will restore the breasts after a unilateral or bilateral mastectomy. Your breast reconstruction can be performed immediately after the mastectomy or at a later time, based on the need for further cancer treatments.
Dr. Shafa can perform your reconstruction in the same surgery as the mastectomy, which may be the ideal approach. For some women, delayed reconstruction is the only option.
Custom treatments may include placing tissue expanders before placing implants. Dr. Shafa will work closely with your cancer surgeon and your other medical providers when planning your custom breast reconstruction surgery.
If you have been diagnosed with breast cancer, discussing breast reconstruction before undergoing a mastectomy is essential. A "nipple-sparing" mastectomy can lead to a very natural-looking breast reconstruction. If the nipple has been surgically removed, Dr. Shafa could create a new nipple on your reconstructed breast.

What are the Benefits of Breast Reconstruction?
Your breasts are a defining feminine feature, and the loss of one or both breasts in cancer surgery has an emotional impact. Restoring your breasts can be one of the most critical factors in a full recovery, and the ability to live life to the fullest after a mastectomy. Under Dr. Shafa's care, a custom breast reconstruction in Beverly Hills or Santa Monica can:
Enhance your emotional wellbeing
Restore self-esteem
Restore natural-looking breasts
Restore youthful, natural-looking figure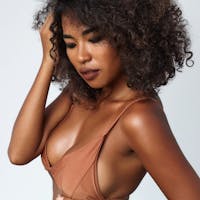 Am I a Candidate for Breast Reconstruction?
Women who have a positive mental outlook and do not have additional medical issues may be excellent candidates for breast reconstruction surgery. Breast revision is 100 percent customized and may involve placing implants, flap reconstruction surgery (with natural tissue), or to restore symmetry after a lumpectomy with natural fat transfer. Health insurance companies are now required to cover breast reconstruction after a mastectomy – it is your right.
Your Partner in Aesthetic Wellness: Dr. Shafa
Dr. Shafa acts as your partner in aesthetic and emotional wellness. He is extraordinarily talented in performing breast reconstruction surgery. When under his care, you will be treated like family, never rushed or pressured, and experience unmatched personal support from your first appointment through to the many years ahead.
What is the Recovery From Breast Reconstruction Surgery?
You should plan at least four weeks to rest and recover after your breast reconstruction in Beverly Hills or Santa Monica. Due to the extensive nature of the surgery, you need to give your body time to heal thoroughly. You must limit your range of motion for the initial two to three weeks. During your recovery, you will have several follow-up appointments with Dr. Shafa, and he will be carefully monitoring your progress as you heal.

Why Should I Choose Dr. Brian Shafa for My Breast Reconstruction?
Dr. Brian Shafa is a talented surgeon with extensive experience creating attractive, natural-looking results with breast reconstruction. He understands the anxiety and stress that may be associated with undergoing surgery and will be your partner on the road to recovery. Dr. Shafa's personalized approach to breast reconstruction takes your individual anatomy, lifestyle, and desires into consideration, crafting a plan that is custom-tailored to you.