If you have had breast enhancement surgery that did not meet your expectations, or you experienced medical complications, breast implant revision in Beverly Hills or Santa Monica may be necessary. Some women undergo revision surgery to replace older implants or textured implants that have been recalled. Dr. Brian Shafa has the experience, technical skills, and eye for symmetry you need when facing the prospect of a breast revision surgery.

What is a B
reast Revision?
Breast implants do not last a lifetime. Manufacturers suggest that breast implants be monitored and replaced at some point, at ten years or later. After a breast augmentation, you may be dismayed with the results, with your breasts too large, too small, uneven, or you might be experiencing an unsightly or painful complication. Whatever your situation, Dr. Shafa will establish a customized surgical plan to resolve your aesthetic issue or health concern.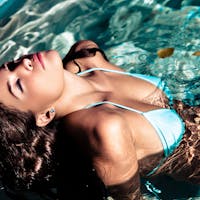 When is Breast Revision
Surgery Necessary?
Breast implant revision in Beverly Hills and Santa Monica allows women to remove existing implants if they are unhappy with the results, replace older implants with new implants, or increase or decrease the size of their breasts. In some cases, revision surgery is necessary to resolve capsular contracture or to replace a ruptured implant.
Breast revision surgery requires a higher level of surgical skill than what is needed to perform breast augmentation. For this reason, the surgeon you choose is a critical point in the success of the revision surgery. Dr. Shafa is known for his exceptional talent in performing breast revision surgery and provides an unparalleled level of personal dedication and care.
Who is a Candidate for Breast Revision?
Women who have experienced complications after a primary breast augmentation or who are disappointed with how their breasts look are excellent candidates for breast revision surgery. Dr. Shafa will examine your breasts and listen to your concerns, offering his expertise about how to resolve any aesthetic issue. He understands the complications which can occur after breast augmentation but never suggests a surgery that he does not believe is necessary or unwarranted. With his personal and dedicated guidance, you can be confident that your results will be elegant and lovely.

Why Should I Choose Dr. Brian Shafa for My Breast Revision?
Dr. Brian Shafa is a skilled surgeon with an intimate knowledge of the latest techniques necessary for sophisticated, natural-looking results. He knows that your breast revision surgery is very important to you, and he is committed to supporting you throughout the process, from your initial consultation through to your full recovery and beyond.