What are Tuberous Breasts?
Tuberous breasts typically develop during puberty and can affect one or both breasts. As the breast tissue grows, the breast, rather than appearing rounded, looks elongated, often asymmetrical, and constricted around the nipple structure, with an overly large areola. If you have tuberous breasts, a custom surgical procedure can resolve the issue, so your breasts appear naturally round, plump, and youthful.
Treating Tuberous Breasts: Dr. Shafa
If you live with this condition, you may feel embarrassed to reveal your chest in intimate moments. Thankfully, with a custom tuberous breast correction in Beverly Hills or Santa Monica, your breasts can be altered to appear natural and normal.
Benefits of Treatment for Tuberous Breasts
Rather than being forced to live with breasts that cause you embarrassment, you can undergo this custom procedure and enjoy the following benefits:
Restored self-confidence
The freedom to reveal your breasts without concern
Symmetrical breasts that appear entirely normal
What are the Symptoms of Tuberous Breasts?
A tuberous breast has the following features:
Narrowed at the breast base
Appear as a tube, rather than round
Sag early in life
Nipples overly large and protruding

Your Customized Treatment
When under the care of Dr. Brian Shafa for tuberous breast correction in Beverly Hills or Santa Monica, you can be confident that you are being treated by a plastic surgeon who cares about you as a person. Dr. Shafa values the confidence placed in him and the importance of communication between doctor and patient. You will not be rushed and will never feel like you are just another patient – Dr. Shafa realizes that deciding to resolve the look of tuberous breasts has probably been a concern for you for a long time. His approach is 100 percent personalized and extends far beyond the completion of your surgery. You will be under the care of a top-level professional who genuinely cares and employs the latest surgical techniques to create breasts that appear lovely, balanced, and symmetrical.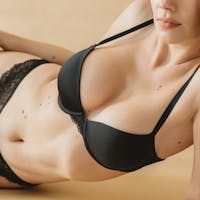 What is the Recovery Time?
You can expect about one week away from work or other activities while you rest and heal. For some women who have a more extensive problem, it may be necessary to undergo two surgeries, with the placement of a tissue expander so your body can generate enough skin to cover an implant.
If your custom procedure includes a breast lift, you can expect a slightly longer recovery time. You will need to sleep with your upper body elevated and take all medications as prescribed. Dr. Shafa will follow your recovery closely and is always available to speak with you about how you are progressing or to discuss any questions or concerns.
FAQ
What type of anesthesia is used for tuberous breast surgery?
Tuberous breast surgery is performed with general anesthesia.
Can tuberous breast surgery and breast augmentation be performed on the same surgery?
These procedures are usually performed during the same surgery to help fill out the breasts and achieve balance and symmetry.
Should I wait until after pregnancy to have tuberous breast surgery?
Women who are pregnant or planning a pregnancy in the near future should wait until least 6 months after the baby is born and breastfeeding is complete. In any other case, there is no reason to wait for your surgery.
Can tuberous breast surgery with implants provide symmetrical results?
Symmetry is one of the key goals of tuberous breast surgery. Implants or fat transfer can help balance asymmetrical breasts to achieve a more harmonious, beautiful result.
Can tuberous breasts be corrected without the use of implants?
For some patients, instead of breast implants, fat transfer breast augmentation can be used to enhance breast size, shape, and symmetry.
How much does tuberous breast surgery cost?
Depending on the degree of tuberous breast deformity, the complexity of the procedure will vary, and this will affect the cost. The breast enhancement method (fat transfer or implants) will also factor into the cost. After your consulation is complete and a surgical plan has been customized for you, we will be able to give you the exact cost.
Will I be able to breastfeed after tuberous breast surgery?
If the glands were not already compromised by the fibrous tissue at the base of the breasts, the surgery typically will not affect a woman's ability to breastfeed.
How long will I need to wait to go back to my regular exercise routine?
Wait for 4-6 weeks before you continue strenuous activity or exercise.