What is breast augmentation?
Rounded, supple breasts are the hallmark of a youthful physique, yet with the aging process and pregnancy, the bust can lose its naturally feminine shape. Breast augmentation is a surgical procedure to enhance the breasts, restoring ample volume and balancing the figure's proportions.
The procedure is most often performed with saline, silicone, or Gummy Bear implants, although some patients may opt for a natural fat transfer breast augmentation. During your private consultation, Dr. Shafa will ensure that you are fully empowered with the education and information you need to make the best choices for your cosmetic outcome.

What is Dr. Shafa's Approach to Breast Augmentation?
For breast augmentation in Beverly Hills and Santa Monica, Dr. Shafa employs an individually tailored approach. His breast augmentations are performed with advanced surgical techniques to create an exquisitely sculpted result. His personalized techniques go far beyond planning, execution, and recovery. He takes all the time you need to ensure your journey to a more shapely figure is a positive experience.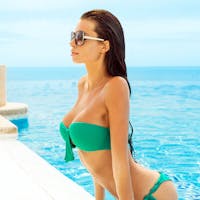 A Personalized Approach to Breast Augmentation
The first step in planning breast surgery in Beverly Hills or Santa Monica involves a thorough evaluation of your frame, your ribcage and upper body width and structure, and a discussion with you about what you hope to achieve. A breast augmentation, when under the care of Dr. Shafa, is not a "standard" or "cookie-cutter" approach – your surgery will be 100 percent personalized. The decisions about size, shape, and projection are essential, and Dr. Shafa works as your partner in achieving true aesthetic harmony, and a look that is entirely natural, plump, and perky.
What Can I Expect During My Breast Augmentation Procedure?
Breast augmentation surgery is performed under general anesthesia. You will not experience any discomfort during the procedure. The incisions are placed with precision to help limit scarring, and the type of implants will determine where the incisions are created. The options are in the breast crease, around the areola, or hidden in the underarm. In every case, after healing, any scars are virtually invisible in swimsuit tops, plunging necklines, or when wearing a bra.
What is the Best Type of Breast Implant?
You have several options in the type of implants for your breast augmentation with Dr. Shafa. He will explain the pros and cons of each type. Your choices include:
Saline implants: Saline implants have the advantage of being filled after placement, requiring smaller incisions. They are typically placed below the muscles, rather than below your natural breast tissue to create the most natural, plump look. Dr. Shafa can advise you about advances in saline implants which combine the benefits of saline and silicone to achieve a more natural feel.
Silicone implants: Silicone implants most closely mimic the softness and weight of natural breast tissue, and are often the choice of women who choose to undergo breast augmentation. These implants are available in a vast range of sizes, shapes, and levels of projection.
Breast Augmentation – Implant Placement Options
Breast implants can be placed beneath the natural breast tissue or beneath the muscles on the chest. The recovery time is typically shorter when the implants are placed beneath the breast tissue, but this option is only appropriate for women with enough natural tissue. When the implants are placed beneath the chest muscle, you reduce the risk of capsular contracture and will not experience rippling.
Breast Augmentation – What is the Best Type of Implant for You? 
Breast augmentation can be performed with saline or silicone implants. Saline implants have the advantage of being filled after placement, typically require a smaller incision, and can be placed in women as young as 18 years old. Silicone implants are the most popular, as the silicone gel closely mimics the feel and weight of natural breasts.
Gummy implants from Allergan are filled with silicone gel. The "gummy" means the gel within the shell holds its shape. The company has developed several gummy implants with varying levels of gumminess. These implants have a smooth shell and are soft and squishy, just like natural breast tissue.
You have a unique aesthetic goal for your breasts, and choosing the implants that will achieve your vision is a critical part of the process. You will never be rushed when under the care of Dr. Shafa – you will have the time and information you need to make the best decision. He will show you your options, allowing you to feel them for yourself and learn about the advantages of each type to help you make an educated decision.

Breast Augmentation with Natural Fat Transfer
Fat grafting, or natural fat transfer, allows women to enhance breast size with their own fat – an entirely natural option. This procedure has the added benefit of slimming another body area, such as love handles, thighs, or abdomen when harvesting the fat cells for transfer. Once extracted, the fat cells are purified and then injected with precision into the breasts to add natural volume. This procedure does not dramatically increase breast size but adds subtle volume. Natural fat transfer may also be appropriate as part of breast augmentation with implants to soften the overall look.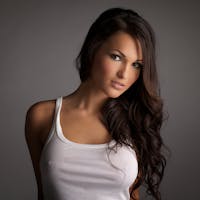 Breast Surgery FAQ
How old do I have to be to have breast enlargement surgery?
You should be 18 years old or older to undergo breast augmentation surgery. In accordance with FDA recommendations, saline breast implants are available to patients 18 years old and older, and silicone breast implants are available to patients 22 years old and older.
Is breast surgery painful?
Most breast augmentation procedures are done while the patient is under general anesthesia, but local anesthesia and IV sedation may also be options. In either case, no pain is felt during the procedure and the most uncomfortable portion of your journey will be during recovery, as the anesthesia wears off, but even this is usually tolerable by most patients. Pain medication is usually prescribed.
Will I be able to breastfeed with breast implants?
Most if not all women with breast implants will be able to breastfeed after the procedure without a problem. While there are certainly risks any time an incision is made into the body, breast augmentation surgery is done between the chest wall and the breasts and avoids the milk ducts altogether.
What can I do about tubular breasts?
Cosmetic breast enlargement surgery is a popular and effective solution for treating tubular breasts and can help improve quality of life for many patients struggling with the condition. During your private consultation for tubular breast correction, Dr. Shafa will assess your breasts and determine the best solution for improving their appearance.
Do I need to massage my breasts after breast surgery?
Breast massage can help to maintain the softness and flexibility of your implants over time and can also help reduce the formation of scar tissue. About 7 days after your surgery, you can begin to gently massage the chest, taking care not to disturb the incisions. You can perform breast massage several times a day for a few minutes each time, continuing this routine for the first 3 months after treatment.

Why Choose Dr. Shafa for Breast Surgery in Beverly Hills or Santa Monica?
The use of advanced surgical techniques is a vital point in the natural beauty of your new breasts. Dr. Shafa provides an extraordinary level of care and attention to his patients. Dr. Shafa's knowledge, skill, confidence, and creativity make him the ideal breast aug surgeon in Beverly Hills and Santa Monica. Your journey will be under the care of a doctor who is genuine, honest, and exceptionally talented in this procedure. You deserve it.