For a breast enhancement in Beverly Hills, Dr. Shafa employs an individually tailored approach. His breast augmentations are performed with advanced surgical techniques to create an exquisitely sculpted result. His personalized approach goes beyond the planning, execution, and recovery from the surgical procedure. He takes all the time you need to ensure your journey to a more shapely figure is a positive experience.

Breast augmentation: Enhance your self-esteem
If your breasts cause you to feel less confident, breast enlargement surgery in Beverly Hills can be life-changing. Women choose to undergo breast enhancement to resolve an array of physical issues, including:
Uneven breasts
Small breasts
Figure enhancement – more volume
Diminished volume after breastfeeding or weight loss
Unbalanced figure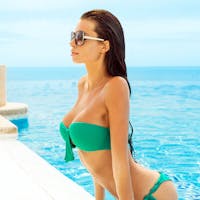 A personalized approach to breast enhancement
The first step in planning breast surgery in Beverly Hills involves a thorough evaluation of your frame, your ribcage and upper body width and structure, and a discussion with you about what you hope to achieve. A breast augmentation, when under the care of Dr. Shafa, is not a "standard" or "cookie-cutter" approach – your surgery will be 100 percent personalized. The decisions about size, shape, and projection are essential, and Dr. Shafa works as your partner in achieving true aesthetic harmony, and a look that is entirely natural, plump, and perky.
What is the procedure?
Breast augmentation surgery is performed under general anesthesia. You will not experience any discomfort during the procedure. The incisions are placed with precision to help limit scarring, and the type of implants will determine where the incisions are created. The options are in the breast crease, around the areola, or hidden in the underarm. In every case, after healing, any scars are virtually invisible in swimsuit tops, plunging necklines, or when wearing a bra.
What is the best type of breast implant?
You have several options in the type of implants for your breast augmentation with Dr. Shafa. He will explain the pros and cons of each type. Your choices include:
Saline implants: Saline implants have the advantage of being filled after placement, requiring smaller incisions. They are typically placed below the muscles, rather than below your natural breast tissue to create the most natural, plump look. Dr. Shafa can advise you about advances in saline implants which combine the benefits of saline and silicone to achieve a more natural feel.
Silicone implants: Silicone implants most closely mimic the softness and weight of natural breast tissue, and are often the choice of women who choose to undergo breast augmentation. These implants are available in a vast range of sizes, shapes, and levels of projection.
Breast Surgery FAQ
How old do I have to be to have breast enlargement surgery?
You should be 18 years old or older to undergo breast augmentation surgery. In accordance with FDA recommendations, saline breast implants are available to patients 18 years old and older, and silicone breast implants are available to patients 22 years old and older.
Is breast surgery painful?
Most breast augmentation procedures are done while the patient is under general anesthesia, but local anesthesia and IV sedation may also be options. In either case, no pain is felt during the procedure and the most uncomfortable portion of your journey will be during recovery, as the anesthesia wears off, but even this is usually tolerable by most patients. Pain medication is usually prescribed.
Will I be able to breastfeed with breast implants?
Most if not all women with breast implants will be able to breastfeed after the procedure without a problem. While there are certainly risks any time an incision is made into the body, breast augmentation surgery is done between the chest wall and the breasts and avoids the milk ducts altogether.

Why choose Dr. Shafa for breast surgery in Beverly Hills?
The use of advanced surgical techniques is a vital point in the natural beauty of your new breasts. Dr. Shafa provides an extraordinary level of care and attention to his patients. Dr. Shafa's knowledge, skill, confidence, and creativity make him the ideal breast aug surgeon in Beverly Hills. Your journey will be under the care of a doctor who is genuine, honest, and exceptionally talented in this procedure. You deserve it.