What is a Lip Lift?
Our lip lift in Beverly Hills or Santa Monica is a minor surgical procedure, requiring only about one hour to complete. It is one of the most highly-requested facial surgeries, as more and more people become interested in enhancing the upper lip while shortening the distance between nose and upper lip for a very natural, youthful look. Women of all ages choose this procedure to restore a more youthful look, treat thinning lips, or create a fuller, more luscious upper lip by revealing more of the vermilion inner tissue. The result should be elegant, refined, and appear entirely natural – and when under the care of Dr. Shafa in Beverly Hills, you can expect results you love. The journey to beauty is made more pleasant, empowering, and successful with the help of one of Beverly Hills' most talented plastic surgeons, Dr. Brian Shafa.
Beautifully Refreshed Lips.
A young face has a shorter span between the nose and mouth. This is the result of firm, supple, resilient skin. Over time, the skin stops producing as much collagen and elastin, and the span lengthens, with lips becoming thinner. A custom lip lift, performed by Dr. Shafa, can create a subtle but dramatic improvement in your facial appearance.

Benefits of a Custom Lip Lift in Beverly Hills and Santa Monica
A lip lift is a custom procedure performed with precision to ensure the perfect quantity of tissue is removed, and the tissues are restored with detailed suturing techniques to achieve the best results. The benefits include:
Long term lip enhancement
Reveals more of your upper teeth when smiling
Shortens a "long" upper lip (distance between nose and upper lip)
Creates a fuller upper lip
Can enhance your entire facial appearance
No general anesthesia needed
No need for regular lip filler injections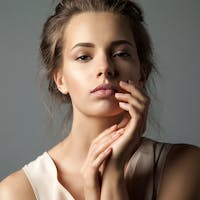 What is the Surgery like?
Your lip lift in Beverly Hills or Santa Monica will be performed with an injection of local anesthesia, as you would expect at a dental appointment. The area of skin and tissue to be removed is carefully marked. The tiny strip of tissue is then meticulously removed, and then tiny stitches are placed to close the incision. The stitches are removed a few days later.
What is the Recovery Time After a Lip Lift?
The recovery is reasonably fast. In the first few days, you can expect swelling, a natural reaction of the body, which typically peaks at about day three, then swiftly fades. The area is protected with an antibiotic ointment for about one week. During the early phase of healing, you must restrict your activities, avoiding vigorous physical activities for about two weeks. The entire healing is usually reached at about the two-to-three-month mark, and the incision line slowly fades to being virtually invisible, hidden beneath the nose.
Why choose Dr. Shafa for a lip lift in Beverly Hills?
If you are considering facial plastic surgery, nothing is more important than the surgical skills of your surgeon. Dr. Shafa is a perfectionist who takes his responsibility to his patients very seriously, with every procedure, including a lip lift, performed with precision and meticulous attention to detail. He is responsive, caring, and his patients love the personalized care he delivers at every step of the process. You will be under the care of a surgeon who has mastered the most advanced techniques and takes pride in ensuring his patients love the results of a lip lift – fresh, youthful, and natural, never overdone.