While most of us enjoy the wisdom and experience that come with age, none of us appreciate the wrinkles, creases, and sagging skin. Your eyebrows and forehead are some of the most visible areas affected by age, with many people having an expression that always looks angry or worried – even on their best days. The solution: A customized brow lift in Beverly Hills or Santa Monica by Dr. Shafa.

What is a Brow Lift?
A brow lift, also known as a forehead lift, is a surgical procedure to raise your brows while reducing wrinkles and creases on your forehead. It can be performed by several different methods and is a highly customized procedure that will reflect your goals and the condition of your skin and tissue. A brow lift may be one aspect of a comprehensive facial rejuvenation that may include a facelift, browlift, eyelid lift, and neck lift.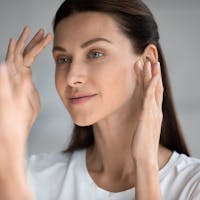 The Benefits of a Brow Lift
A brow lift can:
Restore a more relaxed, happy, and approachable facial expression
Raise eyebrows that have begun to droop lower than the orbital bone (eye socket)
Make your eyes more visible
Smooth wrinkles and creases in your forehead (including frown lines)
Create a more youthful appearance
Restore self-confidence that you may have lost due to aging skin
Am I a Candidate for a Brow Lift in Beverly Hills or Santa Monica?
A brow lift is a very safe and effective procedure, and most people are candidates. A brow lift might be right for you if:
You desire a more youthful appearance
Your brows have drooped lower and given you an angry or sad expression
You are in reasonably good health and have no pre-existing medical condition that could adversely affect the healing process
You are not pregnant or breastfeeding
Like any medical procedure, the only real way to determine your candidacy for a brow lift is through an in-person consultation.
The Brow Lift Procedure
Dr. Shafa employs the latest advances in medical technology, and as such, can perform your brow lift in one of two ways:
Endoscopic Brow Lift: In an endoscopic brow lift, Dr. Shafa makes several small incisions behind your hairline, and then employs camera-assisted technology to raise and re-anchor the drooping skin of the brow surgically. This is the least invasive method with the shortest recovery time and may be the best approach.
Traditional Brow Lift: Traditional brow lifts involve excising a small amount of skin, from within the hairline. This restores a fresh, firm appearance to your forehead while lifting your brows.

Why Choose Dr. Shafa?
When it comes to surgical procedures on your face, there is no substitute for experience, technical skill, and artistry of a skilled surgeon like Dr. Brian Shafa. He is an excellent choice for many reasons, most notably that he takes a personal, caring approach to your journey to an ideal body. Contact us today and schedule a consultation with Dr. Shafa where he can help you understand all your options, answer all your questions, be a partner in your cosmetic wellness.