If your daily hair removal routine consists of painful, time-consuming methods such as shaving, waxing, and tweezing, you might be an excellent candidate for laser hair removal. This cutting-edge laser hair removal in Beverly Hills and Santa Monica can help you to avoid razor bumps, breakouts, and ingrown hairs.
Dr. Shafa and his team can help you to achieve a 70-90% reduction in unwanted hair in around just six sessions, ending the repetitive cycle of ineffective hair removal methods that only provide temporary relief.

What Areas can be Treated?
Face

Upper lip

Armpits

Male chest

Back

Arms

Legs

Bikini zone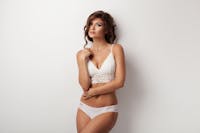 How does Laser Hair Removal work?
Laser therapy has emerged as a leading solution for many cosmetic concerns that were previously untreatable. During laser hair removal, the potent laser energy targets the pigment (coloring) in the hair follicles. The follicles absorb the laser heat, which disrupts their growth cycle and foils future attempts to sprout new hairs. The laser differentiates between your hair color and your skin color, leaving non-hairy areas unharmed and intact. Multiple treatments are needed with laser hair removal due to the natural hair growth cycles that occur over time, but with the right number of sessions, patients can enjoy a 70-90% reduction in unwanted hair.
How do Hair Growth Phases Affect Laser Hair Removal?
While the hair cycles through several phases of growth, about 75% of the hair is usually in the active phase at all times. During this time, the hair follicles contain the most pigment, making them ideal targets for laser energy. By repeating the laser hair removal process several times, you can ensure that the 25% of hairs currently in the transition or resting phases will also be destroyed, improving your outcome. Patients can expect to undergo around 4-6 appointments in order to achieve their hair loss goals.

What are the Benefits of Laser Hair Removal?
Precise, predictable outcome

Preserves the surrounding healthy skin cells

Safe, effective, and non-invasive

Comfortable and painless

Short treatment time

Sustainable results

Convenient with no downtime

No more waxing, shaving, or tweezing

70-90% reduction in unwanted hair

Enhances self-confidence

Increased wardrobe options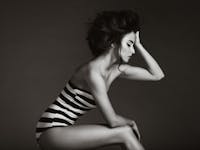 How can I best prepare for my treatment?
Avoid tanning, tanning beds, and tanning sprays for a few weeks before your session. The more contrast there is between your hair and skin, the more effective laser hair removal will be. Wear sunscreen, a sun hat, and long sleeves outdoors for about two weeks prior to your appointment.
The night before your laser hair removal session, shave the treatment area. This will help shorten your overall treatment time.
While shaving is okay, you should refrain from waxing or tweezing the hairs for at least two weeks prior to laser hair removal.
Let Dr. Shafa know about any medications, supplements, or herbs you are currently taking. You may have to discontinue certain pills for a week or so before your session.
On the day of your appointment, avoid wearing makeup, which can make it more difficult for the laser to detect the pigment in the follicles.
What Can I Expect After My Session?
After your laser hair removal in Beverly Hills or Santa Monica, you can expect to resume their normal activities right away. The treatment area may be slightly red akin to a sunburn. Be sure to protect your skin from exposure to the sun's harmful rays and allow yourself to heal properly after your treatment. You can use aloe to help soothe the skin. Dr. Shafa will provide you with individualized aftercare instructions and will follow up with you to schedule additional sessions.

Why Choose Us?
Dr. Shafa is a Beverly Hills native who is passionate about all aspects of health and beauty. He seeks to provide a thorough consultation process, during which he listens carefully to your goals and wishes for improvement. He then curates a personalized treatment plan and executes it with a high degree of precision, insight, and artistry. Dr. Shafa will work tirelessly to produce the satisfying results you seek and ensure you are pleased with your laser hair removal in Beverly Hills or Santa Monica.
After attending medical school at the Wayne State University School of Medicine, Dr. Shafa completed General Surgery training at the prestigious Henry Ford Hospital in Detroit. He then honed his knowledge and skill with additional Plastic Surgery training at the University of Illinois – Chicago.