A beautiful, well-shaped nose creates facial harmony and greatly enhances natural beauty – but many of us were not blessed with a genetically-perfect nose. Rhinoplasty, also known as a nose job, is a surgical technique to correct and enhance your nose – bringing it into balance with your facial features and helps you look and feel confident and attractive.

Rhinoplasty in Beverly Hills & Santa Monica: A Customized, Personal Approach
When performing a rhinoplasty, Dr. Shafa uses a tailored, personalized, and individual approach to making your goals a reality. Being among the nation's top rhinoplasty surgeons, Dr. Shafa employs a wide range of surgical techniques to create dramatic cosmetic improvements with small adjustments. He understands that each person is unique, and his conservative approach allows him to accomplish results that look entirely natural while still meeting or exceeding the expectations of patients.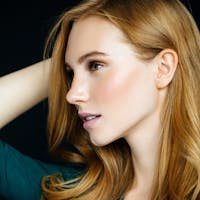 A Personalized Approach to Rhinoplasty
Rhinoplasty is one of the most complex forms of cosmetic surgery, but it is also one of the most rewarding. Dr. Shafa is a renowned professional delivering rhinoplasty in Beverly Hills and Santa Monica. He takes a highly personalized approach to achieve the results you envision. His decades of experience and professional training allow him to create natural-looking, beautiful results that meet one of the top goals of cosmetic surgery: results that make it virtually impossible for anyone to guess that work was done.
What can Rhinoplasty
do for Me?
Improve the overall appearance of your nose
Repair damage from injury
Reduce the size or protrusion of your nose
Change the size or shape of your nostrils
Reduce the tip size or shape
Reduce the bridge of your nose
Correct structural problems that affect your breathing and health
Am I a Candidate for Rhinoplasty?
You might be a candidate for rhinoplasty if:
You feel insecure about your nose
You want to adjust the shape or size of your nose
You suffered trauma or injury that resulted in visible damage to your nose
You have difficulty breathing through your nose
You suffer from a physiological problem with your nose (such as a deviated septum)
What to expect
Your rhinoplasty procedure will depend entirely on the changes you are looking for, with minor procedures taking anywhere from one to two hours, and more extensive procedures lasting up to three or four hours. You will see results right away, but they will be masked somewhat by swelling and bruising that gradually goes away as you heal. Recovery time also varies, but as a general rule, you can plan to take about a week off work while you recover. Full healing can take anywhere from four to six weeks, after which your final, beautiful results will be visible.
Why Choose Dr. Shafa for
Rhinoplasty in Beverly Hills or Santa Monica?
If you have ever seen someone and thought, "Wow, that person got a nose job!" then you understand the importance of choosing the right surgeon. Dr. Shafa is a top-level surgeon who carefully crafts and reshapes your nose to achieve natural-looking, ideal results that enhance your self-confidence and bring symmetry and beauty to your face.