If aging has taken a toll on your skin, and you have wrinkles, creases, fine lines, and a loss of volume, you have options. Dr. Shafa offers an array of injectable dermal fillers in Beverly Hills and Santa Monica. Dermal fillers can restore lost volume to your skin and smooth away wrinkles, creating a far more youthful look in just minutes.
Dermal Fillers: A Quick and Highly Effective Solution to Aging
Dermal fillers will restore lost volume, and subtly smooth away wrinkles, fine lines, and creases. We can augment the shape of your nose with a non-surgical rhinoplasty or improve the shape of your jawline. We can address dark circles under your eyes that make you appear tired, giving you a refreshed and youthful appearance. Our dermal fillers are safe, FDA-approved, and scientifically formulated to provide both immediate and long-lasting benefits for your skin. Some of the benefits of dermal fillers include:
Restoring volume to your cheeks
Smooth wrinkles and lines
Treat nasolabial folds (smile lines)
Create a smoother look to acne-scarred skin
Plump aging or thinner lips
Smooth vertical lip lines
Non-surgical rhinoplasty
Jawline augmentation
Dark undereye circles and tear trough correction
Chin enhancement

The Dermal Filler Experience
Dermal filler injections require only a short appointment to complete. For superior results, ensure your injections are performed by a true professional in the art of anti-aging. Dr. Shafa uses a very delicate, conservative approach, never rushed, to create a more youthful look that appears fresh and natural, not overfilled. Your injections will not involve any significant discomfort, and the filler formula includes lidocaine for a numbing effect. The benefits of our dermal fillers in Beverly Hills or Santa Monica include:
Immediate results
Little to no pain
Non-surgical
The treatment is reversible
ZERO downtime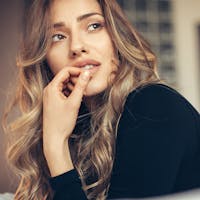 Radiesse
Radiesse is a soft tissue filler made from calcium hydroxylapatite that is a strong collagen stimulator and more closely mimics the natural calcium of your own bones. It can be used in the deep tissues of the cheek, jawbone, chin, and hands.
Sculptra
Sculptra is a different kind of filler made from poly-L-lactic acid that is a strong collagen stimulator and works to activate your body's own collagen production. Sculptra results are longer lasting than the hyaluronic acid fillers and works by gradually restoring volume as your body forms its own collagen.

Why Choose Us?
Dr. Brian Shafa is not just a talented surgeon – he is an artist dedicated to helping people look their best at all times. He takes a highly personalized and conservative approach to cosmetic treatments, and he can help you accomplish your goals with expert use of dermal fillers in Beverly Hills. He has dedicated his professional life to providing an exceptional level of personal care, and to be a partner in cosmetic wellness. Dr. Shafa is proud to offer his patients dermal fillers in Beverly Hills and Santa Monica.