The final step in total body transformation after bariatric surgery is to remove the excess skin, fat, and tissue left behind. The scope of the procedures needed varies, patient to patient, but could include one or more of the following:
Breast lift: Breast volume may have significantly diminished after bariatric surgery. To restore the firm, lifted, round, youthful look to the breasts, the excess tissue must be removed, the mound reshaped, and the nipple structure relocated to be centered in a youthful position.
Arm lift: After bariatric surgery, you may have been left with a significant quantity of excess hanging skin and tissue on the upper arms. An arm lift removes the fat and skin, resculpting the upper arms to create a more appealing and natural look when wearing sleeveless tops or other arm-revealing garments.
Thigh Lift: The upper thighs may need correction when excess skin, fat, and tissue remains after bariatric surgery or a dramatic loss of weight. The procedure is customized and may be necessary on the inner or outer thighs, or both.
Back lift: A back lift removes the excess hanging skin and tissues that remain on the back after bariatric surgery. These skin folds can be uncomfortable and chafe. To achieve the most naturally sculpted look, they can be removed and smoothed with a custom surgery.
Tummy tuck: If the abdominal muscles are stretched or appear split with excess skin and fat located on the abdomen, a custom tummy tuck, or "abdominoplasty," can be performed to firm and tighten the muscles while removing excess fat and skin. The extent of the surgery needed will vary, person to person.
Panniculectomy: Some people develop an "apron" of hanging skin on the lower abdomen, called a "pannus." A panniculectomy removes this hanging apron of skin in a custom body sculpting surgery. This apron of excess skin can cause chafing and discomfort, so a surgical procedure is an excellent way to improve the appearance and quality of life.

Body contouring after bariatric surgery, the final step in your journey
Losing a significant amount of weight is a huge accomplishment and should be celebrated! However, some negative side effects are left to contend with, such as an excess of sagging skin. Dr. Shafa performs custom body reshaping surgery after bariatric surgery and can treat every area of your physique that needs excess skin and tissue removed.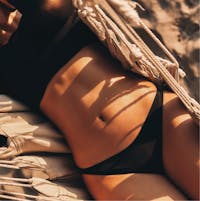 Body sculpting: A custom approach in Beverly Hills, CA
Body sculpting and contouring is a customized treatment, with the extent of the surgery varying from person to person. It may be necessary to address sagging skin and tissue due to:
Aging
Post-pregnancy
A dramatic loss of weight through bariatric surgery
A dramatic loss of weight through diet and exercise
Body contouring after bariatric surgery in Beverly Hills
Custom body contouring is the ideal procedure for people who have achieved massive weight loss and want to enjoy the full effect of their accomplishment with a firm, fit, sculpted body. To undergo the surgery, you should be close to your ideal weight, as this is not a weight-loss procedure but is geared to remove excess skin, fat, and tissue.
What will my recovery entail?
After your body contouring procedure performed by Dr. Shafat in Beverly Hills, your incisions will be dressed with gauze bandages and held firmly in place with compression garments to minimize postoperative swelling and keep your new shape intact. Small drainage tubes may be needed for the first few days.
You will be following detailed aftercare instructions regarding medications, showering, sleeping, exercising, and returning to work or play. You will be required to abstain from lifting anything over 10 lbs. for at least six weeks. Most patients require four to six weeks of recuperation time before returning to strenuous activities of any kind.

Why choose Dr. Shafa in Beverly Hills?
Dr. Shafa has trained extensively in cosmetic and reconstructive surgery and has an exceptional level of expertise in the custom surgical techniques required to restore a slim, firm, fit figure. He has worked both domestically and internationally and has a reputation as a renowned artist who values relationships with clients based on trust and integrity.
Dr. Shafa earned his master's degree in Cancer Biology at the John Hopkins School of Public Health. After completing a medical degree at the Wayne State University School of Medicine, Dr. Shafa pursued training in general surgery at the prestigious Henry Ford Hospital in Detroit. He then further honed his skills in plastic surgery at the world-class plastic surgery program