What is Body Contouring?
Imagine your figure looking fit, taut, and sculpted, free from excess fat or saggy, aging skin. Body contouring in Beverly Hills and Santa Monica is a customized surgical procedure to resolve body conditions that are less than ideal. Dr. Brian Shafa brings an exceptional level of surgical talent to body-reshaping surgeries, including:

What are the Benefits of Body Contouring?
Reduces stubborn fat
Effective when dieting and exercise don't create the desired changes in the physique
Helps reduce excess skin
Tightens and firms the abdominal muscles
Reshapes and sculpts the upper and lower torso
Removes unwanted bumps and bulges
Plumps and rounds the rear end
Creates a better fit in clothing and swimwear
Improves definition in the arms, legs, and chest
Revitalizes the figure after pregnancy or aging
Enhances self-image and self-confidence
Long-lasting outcome
Natural-looking, customized results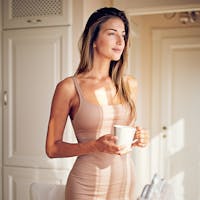 Am I a Candidate for Body Contouring?
Body contouring in Beverly Hills and Santa Monica is an excellent approach for anyone who has been struggling to attain their ideal body shape but has been unable to see dramatic results through dieting and exercising alone. Dr. Shafa offers a wide array of options for toning and sculpting the abdomen, thighs, buttocks, upper arms, hips, waist, lower back, and chest. Each treatment is personalized to fulfill your individual goals.
Good candidates for body contouring are non-smokers of sound mind and body. They are undergoing their procedure to satisfy their own wishes to look and feel better about themselves and not to please others. They should have a realistic, positive attitude regarding their results, based on their private consultation with Dr. Shafa in Beverly Hills.
Tummy tuck
Women and men struggle with abdominal fat, a bulging tummy, or excess skin and tissue. These issues become just a memory after a custom abdominoplasty from Dr. Shafa. He employs the most advanced surgical techniques to achieve superior results. Excess fat, skin, and most stretch marks can become a thing of the past. The underlying muscle structure is tightened to create a firm, sculpted abdomen that looks attractive in even the tightest garments.
BBL
If you feel your buttocks are too small, unbalanced, flat, or saggy, a Brazilian butt lift, or BBL, may be the ideal procedure for you. The beauty of this treatment is that it does more than enhance your derrière. As a BBL involves transferring natural fat, the harvest of healthy fat cells will slim your waist or thighs for a more attractive figure. The fat cells transferred to create a rounded, lifted effect become part of your buttocks for the long term.
Arm lift
If you are embarrassed to be living with flabby, loose upper arms, you don't have to accept your fate. Dr. Shafa performs custom arm lift surgeries to restore a youthful, firm look to your upper arms. The procedure involves removing excess fat, tissue, and skin, and tightening your skin around your muscle structure. Imagine wearing sleeveless tops or dresses with utter confidence! You deserve to feel confident about your look, and we can help.
Thigh lift
Over time, your thighs can lose that attractive, youthful look, store excess fat, and leave folds of skin that you feel obligated to hide. Rather than suffering from embarrassment, or avoiding activities or clothing that will reveal your problem, why not have the firm, sculpted thighs you want? A thigh lift can restore the look of your inner or outer thighs or both. This procedure may be needed after a dramatic loss of weight, whether through diet and exercise or bariatric surgery.
Full body contouring
If you have achieved a dramatic weight loss with bariatric surgery or diet, you may be left with a large quantity of excess skin and tissue. To enjoy the full results of your accomplishment, you may need to undergo full-body contouring to achieve the firm, fit, taut body you want. This custom surgery may involve a tummy tuck, thigh lift, arm lift, and breast lift. The results can be life-changing.
Liposuction
Liposuction is one of the most effective and popular body sculpting techniques on the market and can be performed in combination with a tummy tuck, arm lift, thigh lift, or body lift. Some clients, however, are candidates for liposuction performed by itself as a standalone procedure to trim unsightly bulges in the torso. During the procedure, a small, slender tube called a cannula is inserted through a minute incision at the treatment site. Excess fat is then suctioned out of the body through the cannula, resulting in a shapelier physique. The fat is either discarded, or it can be stored for use in a future fat grafting treatment, such as a natural breast augmentation or Brazilian butt lift. Lipo is performed under general anesthesia or IV sedation and it typically takes about 2 hours to complete.
Mommy Makeover
The mommy makeover is a combination body contouring option for moms who want to revitalize their figures after childbirth. Pregnancy can take a toll on multiple areas of the body, including the breasts, the abdomen, thighs, buttocks, hips, waist, and labia. By combining cosmetic procedures into one powerful, all-encompassing solution, the mommy makeover can save you both recovery time and money. Each mommy makeover is customized to the client's unique wishes and anatomy and may include a tummy tuck, breast enlargement, breast reduction, breast lift, buttock lift, liposuction, and labiaplasty. In addition, the client may opt to undergo facial rejuvenation with dermal fillers and injectables, which can help greatly reduce the signs of aging in the forehead, lips, and eye areas.
Body Implants
If you lack definition in certain areas of the torso despite plenty of effort at the gym, you might consider body implants as a viable treatment to achieve your cosmetic goals. Factors such as aging and poor genes can result in a silhouette that is disproportionate, as well as lowered self-confidence. With body implants, you can create the appearance that you desire. Body implants are made from specially formulated silicone that is compatible with human tissue. They can help sculpt the chest, biceps, shoulders, calves and buttocks, enhancing your physique and boosting your self-image. Additionally, body implants are a great option if you suffer from conditions such as Spina Bifida, Marfan's Syndrome or Poland Syndrome, as they can create a balanced, pleasing aesthetic without looking unnatural.
What Can I Expect from My Recovery?
Recovery will be different for each client, based on the nature of the work performed by Dr. Shafa. Most procedures come with a modicum of swelling, bruising, and tenderness, symptoms that are well-treated with prescription pain medications furnished by the doctor. You will most likely be fitted with a compression garment, an item of clothing that helps reduce your swelling and keeps your newly revised body shape intact. Patients typically return to work within 2-3 weeks and resume vigorous exercise within 4-6 weeks.
Dr. Shafa will provide a customized aftercare plan that goes over such important topics as caring for your incisions, showering and bathing, sleeping, resuming intercourse, resuming work, and resuming athletic activities. He will closely monitor your recovery to ensure your healing progresses as planned.

Why Choose Dr. Brian Shafa for Body Contouring in Beverly Hills?
For a personalized body contouring procedure, you want to have ultimate confidence in your plastic surgeon. Dr. Shafa has become one of Santa Monica and Beverly Hills' top body contour specialists and has achieved stellar outcomes in even the most difficult cases. His exceptional results are a direct reflection of his advanced training and techniques. He will work closely with you at every step of the procedure and will be a true partner in your transformation.