Top breast surgeon in Beverly Hills, Dr. Brian Shafa, is a board-certified plastic surgeon trained in cosmetic surgery, reconstructive surgery, and all facets of plastic surgery, including burn care, wound care, and hand surgery. He has worked with a diverse patient population all across the United States and abroad and has developed a reputation as an honest, caring, and devoted physician who develops trusting and loving relationships with his patients.

Education and Training
Dr. Brian Shafa was born and raised in Beverly Hills, CA attending CEE and Harvard-Westlake. During this time he volunteered at Cedars-Sinai Hospital and worked with multiple local plastic surgeons, cementing his interest in medicine and his love of the field of cosmetic surgery. He then attended The Johns Hopkins University where he completed his degree in Biology. Following his undergraduate training, he completed a research year at Harvard Medical School focused on Cancer Biology and genetics. He then matriculated to The Johns Hopkins School of Public Health where he earned a Masters Degree in Cancer Biology. After graduate school, he returned to Los Angeles for a research year at UCLA focused on epigenetic control in cancer development.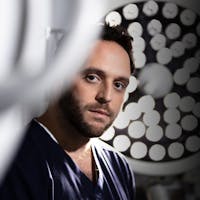 In 2008, Dr. Shafa moved to Michigan for medical school at the Wayne State University School of Medicine. He then completed his General Surgery training at the prestigious Henry Ford Hospital in Detroit. Upon completion of his General Surgery training, Dr. Shafa moved to Chicago for his Plastic Surgery training at the University of Illinois – Chicago. UIC Plastic Surgery is internationally recognized for its Craniofacial Center and management of congenital craniofacial abnormalities in addition to its focus on cosmetic surgery and facial trauma surgery. After completing all of his surgical training, Dr. Shafa returned home to Beverly Hills to begin his Cosmetic Surgery practice.
Dr. Shafa was most recently selected for the Best of Beverly Hills 2023!