A glowing, refreshed complexion can provide a wonderful sense of pride in one's appearance and create a positive first impression, both socially and professionally. While topical products can help improve the skin in the short term, over time, the body's production of collagen and elastin slows, and a deeper commitment to one's skincare regimen may be in order.
Our Microneedling with PRP in Beverly Hills and Santa Monica is an innovative anti-aging treatment that provides stellar results. The natural growth factors contained in platelet-rich plasma help revive and repair compromised skin cells. Dr. Shafa is excited to offer microneedling with PRP as part of his cutting-edge arsenal of world-class skincare solutions.
What is Microneedling with PRP?
During microneedling, the skin undergoes tiny micro-injuries that stimulate the body's collagen production response. Renewed collagen improves the skin's underlying structural support, giving way to a more youthful appearance and a smoother complexion. The benefits of microneedling are enhanced by PRP (platelet-rich plasma), which injects healing, reparative growth factors into the skin. The PRP comes from the client's own blood.
Microneedling with PRP can be used to treat:
Face
Arms
Chest
Neck
Hands
Abdomen
Back
Legs

What are the Benefits of Microneedling with PRP?
Corrects spider veins
Treats stretch marks
Reduces broken capillaries
Improves the look of acne scars
Provides a more even skin tone
Combats lines, wrinkles, and creases
Creates a youthful glow
Firms and revitalizes the skin texture
Lightens sunspots
Safe for all skin types
Treatment can be customized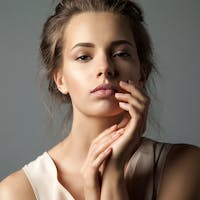 Who Makes an Ideal Candidate for Microneedling with PRP?
Our Microneedling with PRP in Beverly Hills and Santa Monica is a great option for those who wish to:
Improve the look of wrinkles, lines, and creases
Reduce acne scarring
Tighten and firm sagging skin
Treat enlarged pores
Improve skin tone and texture
Reduce the appearance of blemishes
Replenish the skin's supply of collagen and elastin
Combat volume loss
Correct dark under-eye circles
Minimize facial redness
Clients pursuing treatment should be mentally and physically healthy non-smokers who have positive, realistic attitudes regarding their results. Dr. Shafa will conduct a private consultation and evaluate your skin, at which point he can determine for sure whether microneedling with PRP is a good fit for your goals.
What Happens After My Treatment?
After your microneedling with PRP in Beverly Hills and Santa Monica, you may experience minor swelling and redness that lasts a few days. For the first 48 hours, you will be instructed to gently wash the treated areas with bottled water and to avoid excessive exposure to the sun. Most patients can resume their normal activities right away after microneedling with PRP; there is no downtime. Within 2-4 weeks, you will begin to see a marked improvement in your skin's tone and texture.

Why choose Dr. Shafa?
Dr. Shafa is a leading plastic surgeon in the Beverly Hills area who provides outstanding care in a cutting-edge, state-of-the-art setting. Our compassionate staff and world-class practice setting make the ideal sanctuary for your cosmetic transformation. Whether he is strategically sculpting the breasts, body, and face or overseeing youth-enhancing non-surgical treatments such as microneedling with PRP, Dr. Shafa ensures your results are elegant, natural, and personalized.
After obtaining his medical degree at the Wayne State University School of Medicine, Dr. Shafa went on to pursue a demanding General Surgery training program at the world-renowned Henry Ford Hospital. He then continued his meticulous training in the art of Plastic Surgery at the University of Illinois – Chicago.