While cosmetic surgery was once more common for women, times have changed. Men are taking advantage of the ability to reshape the body, enhance facial appearance, or undergo age-defying treatments. Studies have shown that men who appear more youthful, vital, and masculine feel and act with confidence in business, social life, and relationships. Dr. Brian Shafa offers a wide range of cosmetic services designed for men, and he has the artistry and advanced techniques to produce outcomes that appear entirely natural – and are ideal for men.
Facelift
The effects of age, gravity, and the sun can wreak havoc on your face, causing your skin to wrinkle and droop. A Beverly Hills facelift can reverse these unwanted changes and restore a more youthful, vital appearance to your face that makes you look up to ten (or more) years younger. Your facelift will be completely tailored to your unique facial structure and designed to make the enhancements you envision.
Eyelid lift
If your eyelids have begun to droop and sag, or you have developed heavy bags under your eyes, an eyelid (also known as blepharoplasty) can work miracles. Dr. Shafa can expertly repair both the upper and lower eyelids to restore a bright, youthful appearance that appears entirely natural. An eyelid lift is also an excellent way to improve vision if your upper eyelids are affecting your eyesight.

Rhinoplasty
Rhinoplasty, or a nose job, is a surgical procedure to correct and enhance your nose shape. Dr. Shafa's technical expertise enables him to address a wide range of nasal issues with rhinoplasty, including:
Adjusting the overall shape of your nose
Reduce or modify the tip size and shape
Reduce or adjust the bridge of your nose
Adjust the size or shape of your nostrils
Correct structural issues that can affect breathing
Repair visible damage from an injury or trauma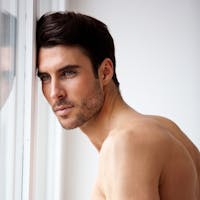 Forehead reduction
Most men suffer from male-pattern baldness as they get older, or genetically programmed for a receding hairline. Forehead reduction is a surgical procedure in which Dr. Shafa brings your hairline lower to restore a more youthful facial appearance and restore balance and vigor to your look. The surgery is performed with artistry, with results that are natural-looking and create minimal scarring, leaving you looking great and ready to face the world.
Otoplasty
Otoplasty, the medical term for ear surgery, is an effective outpatient procedure to correct oversized, protruding, or damaged ears. This quick procedure takes only an hour or two, and the results can be life-changing. There is no need to live with ears that are too large, protruding, or unusually-shaped. Dr. Shafa is here to help resolve aesthetic ear problems, and restore your self-confidence.

Gynecomastia
Men who suffer from gynecomastia feel insecure and embarrassed to go shirtless, due to an excess of male breast tissue. If this sounds familiar, you are not alone. Millions of men around the world suffer from gynecomastia or enlarged male breasts. This tissue is almost impossible to resolve with diet or exercise and requires surgical removal. Dr. Shafa performs male breast reduction surgery, creating a firm, fit, upper chest, free from excess fat or glandular tissue.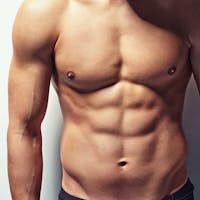 High-definition liposuction
HD liposuction is an advanced liposuction technique that allows Dr. Shafa to reveal your muscle structure. Do you struggle to have a visible six-pack? Well, not anymore. With HD liposuction, he can emphasize all the right lines and contours without the need to dedicate years at the gym to burn off that last 2 percent of fat hiding the structure.
Body implants
Many men suffer from a genetic or physiological inability to build and define specific muscles and body parts, which can be a source of embarrassment. Body implants are available to enhance any body area, and can dramatically improve your physical appearance. Dr. Shafa can speak with you about the options available to improve your overall physical appeal with custom body implants to create a more masculine, attractive body.