A neck lift, or platysmaplasty, is a cosmetic surgery designed to remove excess skin and fat from your neck, resulting in a smoother, more refined, elegant neck structure. It may be done as a standalone treatment or in combination with other procedures such as neck liposuction, a brow lift or a facelift.

Beverly Hills & Santa Monica Neck Lift
The neck is one of the first places to show signs of aging, developing loose skin, wrinkles, or fatty deposits with time. These aesthetic issues affect your facial profile, leaving you with a double chin or lack of definition at the jawline. If you feel your neck looks older than your face, a neck lift in Beverly Hills or Santa Monica could give you a more youthful and refreshed look. A neck lift will not stop the aging process, but results are long-lasting and will usually last 10 to 15 years.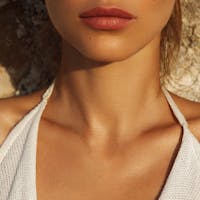 Who is a Candidate for a Neck Lift?
A neck lift tightens and rejuvenates the neck and jaw area, giving it a slimmer-looking silhouette. If you have excess loose skin, wrinkles, creases, or fat on your neck, but your face is youthful, and you're not ready for a full facelift, a neck lift in Beverly Hills or Santa Monica may be right for you. You may be a candidate if you:
Have loose or sagging skin on your neck
Want to restore definition at your jawline
Have vertical banding or horizontal creases on your neck
Have excess fat in your jaw or neck area
Have a double chin
Feel your neck looks old, affecting your image
Your Neck Lift
Your neck lift in Beverly Hills or Santa Monica will take one to three hours. In most cases, it is performed under general anesthesia. Depending on the extent of your custom procedure, you may be able to go home the same day, or you may need one night under medical supervision. It is usual for your neck to feel tight and bruised following neck lift surgery. The bruising should resolve in four to five days, but the feeling of tightness may linger for weeks or longer. The healing process varies from person to person, and Dr. Shafa will make sure to provide you with detailed aftercare instructions to help facilitate a smooth recovery.
What to expect
Your neck lift will be tailored to your specific needs, reflecting your aesthetic goals as well as the condition of your skin and tissues. If you are between 20 and 50 years old and your neck doesn't show significant signs of aging, neck liposuction may be used to remove unwanted fat. If you have extensive wrinkling and loose skin, more extensive surgery may be needed. Dr. Shafa will go over your options with you to ensure you achieve the results you envision.
Why Should I Choose Dr. Shafa?
Dr. Brian Shafa is known and loved for his exceptional care for every patient. He is committed to achieving elegant, youthful results with as little surgical intervention as possible. His responsibility for you goes beyond your surgical procedure. He will work closely with you every step of the way, helping to prevent premature aging and make your results long-lasting, with guidance on prolonging your results with non-surgical options and lifestyle changes.