Motherhood is a beautiful and rewarding experience, but it can wreak havoc on your figure. A mommy makeover is a set of several procedures to help mothers regain confidence by restoring a youthful, sculpted figure. A mommy makeover can restore your body after being negatively affected by a pregnancy, childbirth, and breastfeeding.

What is a mommy makeover?
A mommy makeover is a completely customized treatment plan involving multiple procedures, usually performed in one surgical appointment, that can help restore your body to its pre-baby, taut, youthful look. The combination of procedures may include lipo, abdominoplasty, breast lift or breast enlargement, a butt lift, or labiaplasty.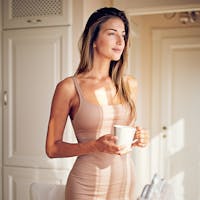 What can I expect during my mommy makeover in Beverly Hills?
The first step in your mommy makeover is scheduling a consultation with Dr. Shafa to discuss your vision for your body. During your consultation, Dr. Shafa will advise you about the procedures you need to create a slim, taut, youthful figure, rounded firm breasts, and a body that appears sculpted and lovely.
After crafting your custom treatment plan, you will be scheduled for your mommy makeover procedure. During your mommy makeover, general anesthesia or intravenous sedation will ensure a pain-free experience. Dr. Shafa may perform a combination of the following aesthetic surgeries:
Breast lift
Breast augmentation
Butt lift
Liposuction
Tummy tuck
Vaginal rejuvenation

Am I an ideal candidate for a mommy makeover?
You could be an ideal candidate for a mommy makeover if you are struggling with multiple areas of your body that show damage from pregnancy, childbirth, and breastfeeding. You should be in good overall health, at a healthy weight, and are not planning more children in the future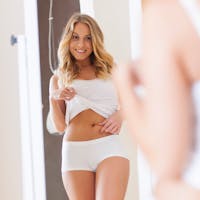 Why choose Dr. Shafa in Beverly Hills for my mommy makeover?
When looking for a highly personalized treatment plan such as a mommy makeover, seeing someone who specializes in curating customized treatments like Dr. Shafa in Beverly Hills is critical. Dr. Shafa offers excellence in aesthetic enhancements, achieving elegant and natural-looking results that last for years. It is Dr. Shafa's goal to help you regain a fresh, youthful look after the baby so that you feel comfortable, empowered, and confident in your body, both as a beautiful woman and a loving mother.