Your facial skin is constantly exposed to the sun, wind, rain, and countless environmental toxins. As the years pass, it will inevitably become depleted, losing the firm, resilient quality of youth. Etched-in lines and creases appear, and the skin becomes dull and less flexible. Undergoing regenerative treatments can help you maintain youthful skin for far longer than nature intended, and an "invisible facemask," offered by Dr. Brian Shafa, is a groundbreaking advance in skin anti-aging technology.
Skin restoring treatment for face, neck, decolletage, and hands: The I-facemask.
The invisible facemask contains a custom-designed mix of hyaluronic acid, vitamins, and nutrients the skin needs. Instead of being applied to the skin's surface as in a traditional mask, these nutrients are injected beneath the skin, filling in lines, wrinkles, and creases, hydrating the skin and leaving it looking youthful, bright, smooth and refreshed.

What is an invisible facemask, or "i-facemask?"
Rather than placing a mask on the surface of your skin in the hopes that it will absorb the nutrients and hyaluronic acid, the invisible facemask is injected to reach a deeper dermal layer – where it matters. This treatment has a remarkable effect on your skin quality and appearance.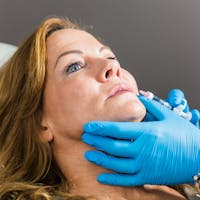 How does the invisible facemask work?
A customized blend of vitamins, hyaluronic acid, and nutrients is injected into the skin to enhance skin health on the face, neck, decolletage, or hands. The treatment is not painful to experience, as the set of needles used to inject the nutrients into your skin is exceptionally fine. The treatment takes only about 20 to 40 minutes to complete, depending on the areas to be enhanced. It will leave your skin firmer, smoother, deeply hydrated, and nourished.
What can an invisible facemask do for my skin?
This customized, skin-regenerating treatment produces a visible change in your skin. The benefits include:
Deep hydration
Firmer skin
Smooths lines and wrinkles
Provides skin-restoring nutrients to the deeper skin layer
Brightens skin
Tightening effect
What products are
injected into my skin?
Your skin easily becomes depleted of several vitamins, minerals, and hyaluronic acid. Your custom blend of nutrients may include:
Amino acids
Minerals
Coenzymes
Nucleotides
Hyaluronic acid
Why choose Dr. Shafa?
Dr. Shafa stays at the forefront in the most recent developments in aesthetics. The personal care and attention he provides, and his customized approach to anti-aging has led to his reputation for excellence, and his many loyal patients who trust him to offer treatments that deliver as promised. Under his care, you can expect real-world results in your skin health, firmness, glow, and quality.
FAQ
Is it painful?
Before your treatment, a topical anesthetic cream can be applied to your skin if you are sensitive. You will not experience much discomfort, even without the cream.
Is there a recovery time?
Following your treatment, a refreshing mask is applied to your skin, and you are free to return to your usual routine. There is no downtime, although there may be minor redness, which fades quickly.
When will I see results?
The results are immediately apparent, with the optimal improvement appearing on the second day. The nourishing, plumping, therapeutic effects can be enhanced by undergoing a series of treatments at one-month intervals. Your skin responds to the infusion of nutrients by producing natural collagen and elastin.