A panniculectomy in Beverly Hills is often performed in tandem with abdominoplasty to further contour the lower body beneath the belly button and around the back.
Panniculectomy candidates have typically undergone recent massive weight loss that has resulted in accumulated skin around the midsection. This apron of excess skin can cause undue chafing and discomfort, so a surgical procedure is an excellent way to improve the patient's appearance as well as quality of life.

What is a panniculectomy?
While losing a significant amount of weight is a huge accomplishment that should be celebrated, there are often negative side effects to contend with, such as an excess of sagging skin. Panniculectomy is a surgical surgical procedure that can help sculpt and slim the lower body to help improve the aesthetics and functioning of your physique while simultaneously boosting your self confidence.
While often performed in tandem with a tummy tuck, a panniculectomy differs from abdominoplasty in the sense that it does not tighten the stomach's six-pack muscles during surgery.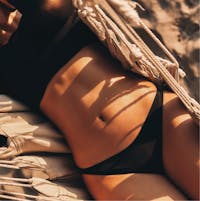 The most common reasons
to undergo panniculectomy are:
Aging
Genetics
Post-pregnancy body sculpting
Refining the results of a prior abdominal surgery
Massive weight loss
Who makes a good candidate for a panniculectomy in Beverly Hills?
A panniculectomy is an excellent procedure for anyone who has undergone massive weight loss and is left with excess skin around the hips, waist and lower back that is causing discomfort, irritation and cosmetic concerns.
Clients considering surgery should be at or close to their ideal weight. Panniculectomy is not a weight loss procedure or an alternative to exercise. It is simply a way to remove unsightly excess sagging from the midsection.
Patients undergoing surgery should be of sound mind and body and be realistic in their expectations for the results. They should be non-smokers, or willing to quit at least two or three weeks before and after their surgery, as smoking can significantly interfere with your body's ability to heal.
What will my recovery entail?
After your panniculectomy in Beverly Hills , your incisions will be dressed with gauze bandages and you will receive a compression garment that can help minimize postoperative swelling and keep your new shape intact. Small drainage tubes may be placed beneath the skin to help escort excess fluids and blood out of the body. You will receive detailed aftercare instructions on wound care, pain medications, showering, sleeping, exercising and returning to work. It's important that you abstain from lifting anything over 10 lbs for at least 6 weeks. Most patients require 4-6 weeks of recuperation time before returning to strenuous activities of any kind.

Why choose Dr. Shafa in Beverly Hills?
Dr. Shafa has trained extensively in cosmetic and reconstructive surgery, and has consummate expertise in the complex fields of burn care and hand surgery. He has worked both domestically and internationally, developing a reputation as a renowned artist who values relationships with clients based on trust and integrity.
Dr. Shafa earned his Master's Degree in Cancer Biology at the John Hopkins School of Public Health. After completing a medical degree at the Wayne State University School of Medicine, Dr. Shafa pursued training in general surgery at the prestigious Henry Ford Hospital in Detroit. He then further honed his skill in plastic surgery at the University of Illinois in Chicago.