Body implants can reshape, recontour, and add volume to specific body parts such as the buttocks, chest, biceps, shoulders, and calves. Made from a silicone material that is compatible with body tissues, body implants are placed to bring volume and definition where it is lacking.
Beverly Hills body implants
Body implants are no substitute for a healthy lifestyle and exercise. However, it can be very difficult or impossible to get the results you want from training alone.
Genetic factors and the aging process can both play a role in preventing you from achieving an attractively proportioned figure. Body implants can sculpt and enhance various areas of the body, giving your body a more balanced and aesthetically pleasing appearance.

Are body implants
right for me?
If you are unhappy with the proportions of particular areas of your body, despite attempts to improve your look with workouts, you may be a candidate for body implant surgery. Body implants can also be effective in restoring your body's appearance if you have suffered from an accident or medical condition that affected natural muscle growth. In some cases, body implants are used after cancer surgery to restore shape and volume after surgery. Some of the body areas that can be enhanced with body implants include:
Shoulders/deltoids
Chest/pectorals
Biceps and triceps
Buttocks
Calves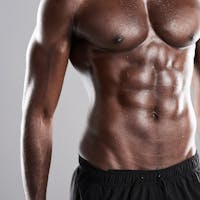 What to expect
Your first step is to contact us at our Beverly Hills practice for a consultation with Dr. Brian Shafa. During your initial consultation, Dr. Shafa will go over your expectations and goals with you. With his extensive technical knowledge and skill, he will be able to recommend the best procedure to meet your unique vision for your body. If body implant surgery is a suitable option for you, he will go over the details of the process with you. He will also craft a care plan that includes non-surgical and lifestyle changes that will help you achieve the best results.
Your body implant surgery
Your procedure will most likely take about two hours. You will be under conscious sedation or general anesthesia, depending on the procedure. Dr. Shafa will form a surgical pocket for the implant and insert it through an incision strategically placed for minimal scarring. Over time, your body will develop scar tissue around the implant, securing it in place for the long term. Recovery time will depend on the location of your body implants. Dr. Shafa will let you know how much downtime will be needed, as well as give you steps to follow to facilitate a speedy and uncomplicated recovery process.